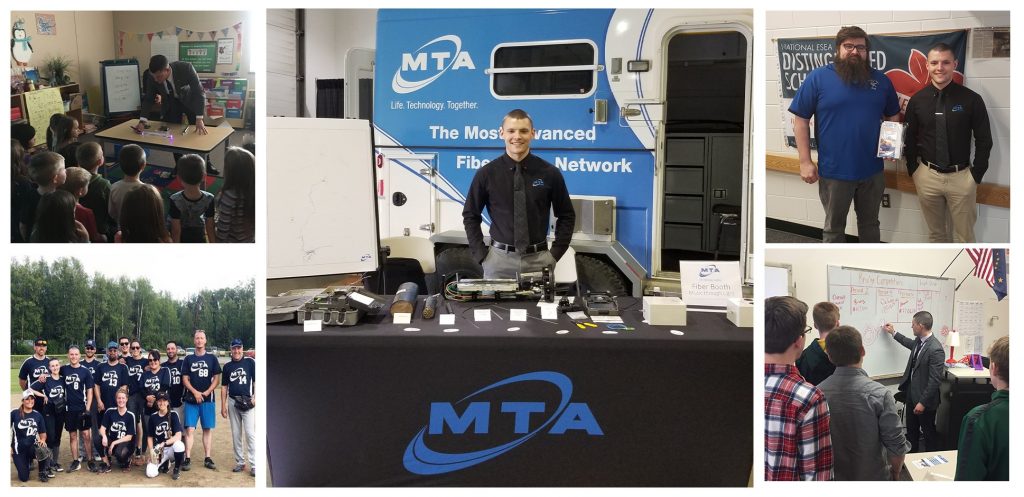 By: Zak Wolf, Product Specialist
As a young high school graduate in Alaska, I always foresaw myself in a career utilizing technology to develop and bring new products and services to life. Today, I am fortunate to work for one of the state's technology leaders, leading a team through the development of innovative software that would help make life better and safer for thousands of local individuals, families and businesses.
But through MTA, that dream has become a reality not just for me but for its members.
My journey started at Mat-Su Career & Technical High School, which was made up of students who truly wanted to excel at a trade. I chose "Information Technology" as my pathway, and studied topics ranging from 3D modeling and engineering to AutoCAD drafting and electronics. The students all strived for the same thing – a focused career in their field of choosing following graduation.
Before long, I was beginning that career at MTA, working my way through roles in tech support and sales (where I honed skills in product and technical acumen as well as documentation) before eventually being offered a role in product development. I was thrilled to have this opportunity and take on more responsibility and creativity at MTA; starting with process design and improvement before slowly taking on MTA's business voice solutions.
In this role is where I was given the most responsibility to date: taking on my first full-cycle development project: MTA Shield. For background as to why and how MTA Shield came to fruition, it's worth taking a step back and looking at the context of MTA and the world more broadly.
It's estimated that data breaches exposed over 4 million private records in the first half of 2019 alone, making it increasingly clear that the need for safe and secure access to internet is at an all-time high.
MTA doesn't just provide access to internet and technology – we see it as one of our core priorities to keep the members of our co-op safe with solutions that they can trust, and also ones that are easy to manage.
As our members' usage continued increasing year over year, MTA launched Unlimited Internet at the end of 2016, while the remaining issue of long-term capacity was solved by the recent completion of AlCan ONE, which connected Alaska to the lower 48. Between the roll-out of Unlimited Internet and the rise in connected devices (which were now more manageable through MTA's totalWiFi™), it was clear that there was more that needed to be done to keep things secure on the micro level.
We started by hosting a series of cybersecurity classes, and we realized how great their interest – and concern – was. Thus, the idea for MTA Shield was born. This is a project that's been many months in the making and one that's required a great deal of communication and vigilance both internally between our development, security and executive teams and with members.
On a personal level, the MTA Shield development and roll-out put me in charge of a variety of vital tasks that I'd been preparing for throughout my education and career: vendor selection, packaging, pricing, branding, employee training, sales enablement and ultimately, market launch.
To make this project a reality, our team decided to partner with Finnish cyber security and privacy company F-Secure to help us create a detailed project plan to keep us on track and get the job done. Based on their credentials and reputation, we knew they would be the right ones to ensure our members were as secure as possible.
Now, we are excited to finally roll-out MTA Shield itself: a new suite of three apps that provide total device protection. These apps work in conjunction with each other and allow our members to take charge of their network security.
MTA Home Shield works with our totalWiFi gateway and provides advanced transparency and protection for your entire WiFi network. In addition to preventing attacks on WiFi devices, it also offers content filtering, device and user management; and provides the ability to set rules, such as screen time limits and pausing WiFi access during certain times for all or specific devices.
MTA Mobile Shield can be used at home and on the go. Downloaded directly to your mobile devices, it performs virus and malware scans and offers tools for safe browsing.
MTA Identity Shield prevents your personal information from ending up in the wrong places by detecting when your identity information is at risk and helping them take action. It also helps our members create and store stronger passwords.
Our product team has been proud to take an outside-in approach to this development and every other type of problem-solving by getting out of the office to better understand our members. By observing their lifestyles and challenges, we're able to create meaningful solutions to empower them to live more connected lives.
Throughout this test of my skills, organization and leadership, I learned many things. Most notable was the importance of internal and external communication when there are so many moving parts (especially now, with much of the team working remotely); I can't stress enough how vital keeping in touch with your team is throughout major projects. Additionally, having a detailed project plan with key milestones and deadlines is crucial.
There were so many firsts for me during the creation of MTA Shield, and it's helped me bolster my understanding of not only starting a project like this from the ground up, but also the vigilance that is required to be successful in doing so. It's been exhilarating to see MTA Shield come to fruition, and I'm so excited to continue working with the MTA team moving forward to create more innovative products that empower our members and build better realities for them.
Now that I've found myself in the role that I was so determined to achieve all the way back in high school, I've been proud to help empower future generations of tech leaders as well. I recently visited Mat-Su Career & Technical High School with fiber kit demos and other projects that I hope will inspire young students to follow their dreams and make them a reality.
(For more information about MTA Shield, visit https://www.mtasolutions.com/news-alerts/mta-announces-mta-shield/.)